Certifications and Awards
As a company committed to quality and safety, HRD Aero Systems always adheres to the aviation manufacturing industry's most stringent quality standards.
HRD Aero Systems' Certifications
Our state-of-the-art aerospace FAA Part 145 repair station meets all safety assurance requirements posed by the Federal Aviation Administration (FAA). Our FAA certifications verify that our aircraft products and operations are safe, efficient and adhere to FAA public protection expectations.
We are rated to repair, modify, overhaul, test and inspect aviation accessories, radios and emergency equipment in accordance with manufacturer maintenance manuals and FAA-approved data.
We received a positive recommendation from the European Union Aviation Safety Agency (EASA) confirming our EASA Part 145 approval. This company-level certification verifies that HRD Aero Systems complies with the EASA's design, maintenance, production and operation standards regarding aircraft components, allowing us to service all aviation products featured in the FAA Air Agency Certificate.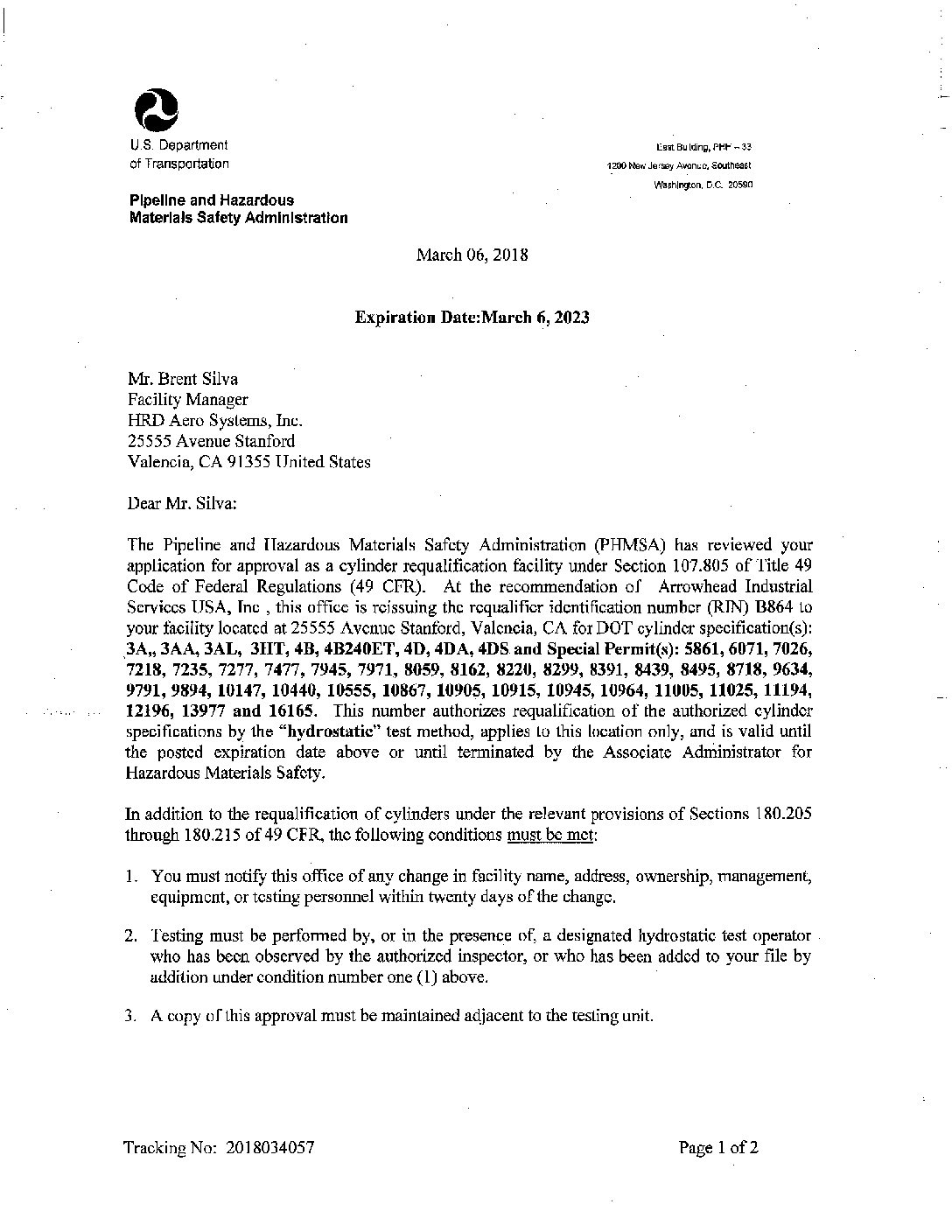 Our United States Department of Transportation (DOT) certifications, as approved by the Pipeline and Hazardous Materials Safety Administration (PHMSA), recognize us as a cylinder requalification facility according to Section 107.805 of the Title 49 Code of Federal Regulations (49 CFR). Our many DOT certifications allow us to inspect, test, repair, certify or rebuild cylinders according to DOT specifications and special permits.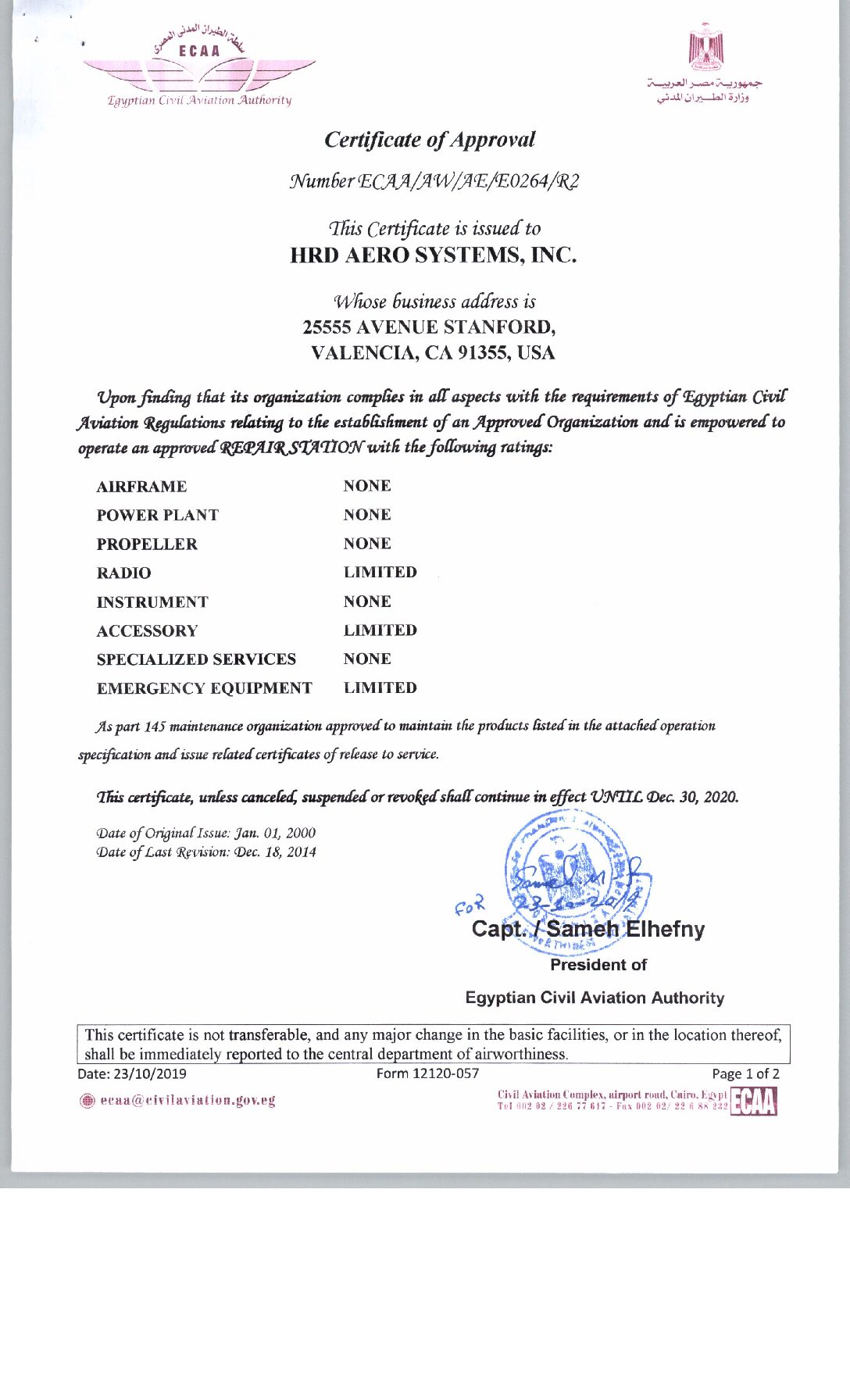 The Egyptian Civil Aviation Authority (ECAA) granted us certification to operate as an approved repair station for radio, accessory and emergency equipment maintenance. These qualifications verify that HRD Aero Systems complies with all Egyptian Civil Aviation Authority regulations.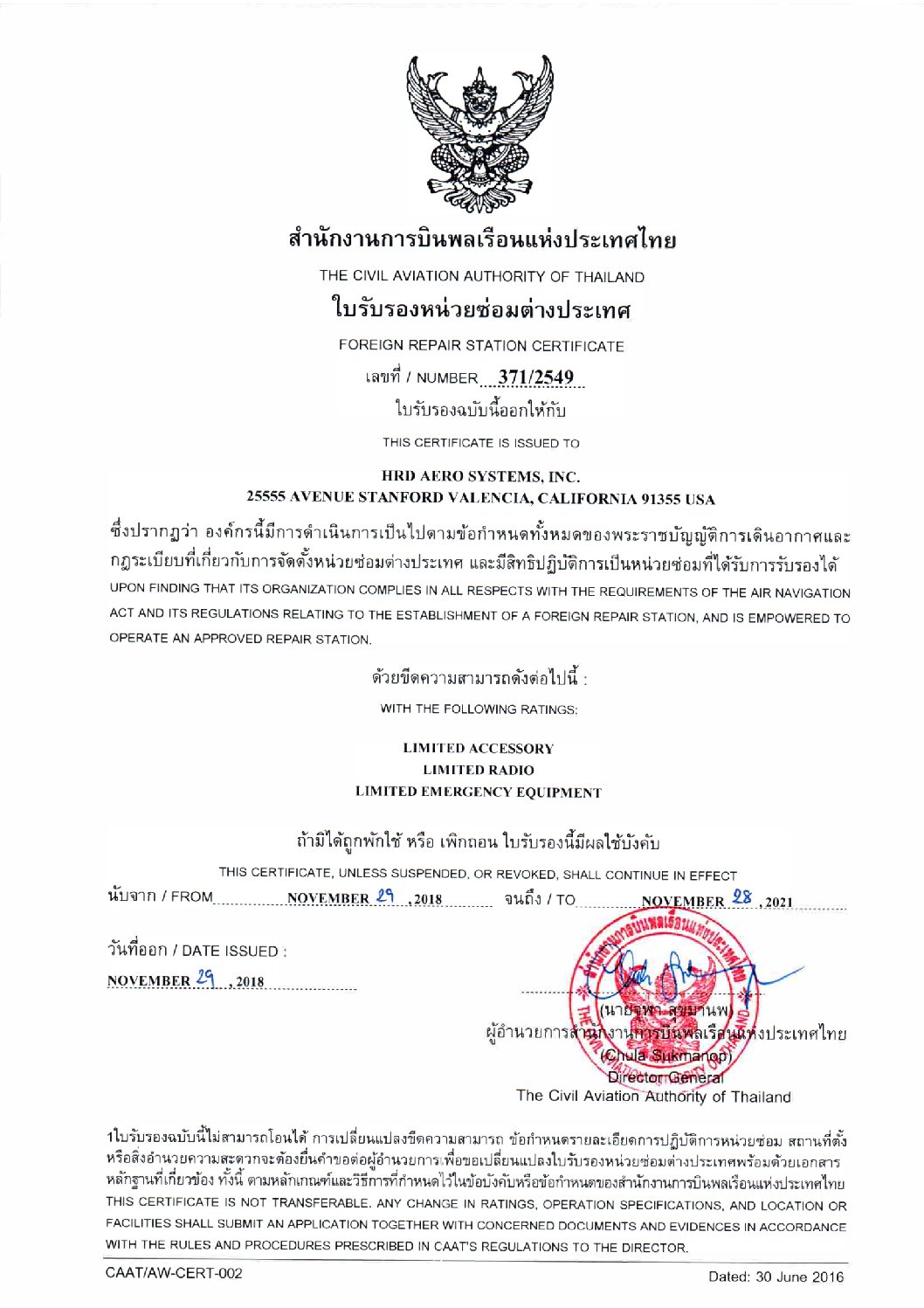 HRD Aero Systems appears on the Civil Aviation Authority of Thailand (CAAT)'s list of approved maintenance organizations, confirming that we comply with all Air Navigation Act requirements. This certification approves our aerospace repair station for regular operation with limited accessory, radio and emergency equipment ratings.
We received certification from the Civil Aviation Authority of Malaysia (CAAM), allowing us to engage in aviation maintenance for components from any Malaysian-registered aircraft. This certification confirms that we have an appropriate work environment, approved airworthiness data and the proper tools to carry out maintenance operations.
Other Certifications
We've also earned other important certifications from major organizations, including:
We earned the Drug and Alcohol Testing Certification of Compliance from TAG/AMS, Inc., verifying that our employees may undergo random drug and alcohol testing to remain in DOT compliance.
Awards
In addition to our quality and compliance certifications, HRD Aero Systems is also proud to have earned various prestigious awards over the past eight years. Some of our proud achievements include:
2013 Top Shop Award from OneAero MRO
2014 Top Shop Award from OneAero MRO
2015 Top Shop Award from OneAero MRO
2017 Top Shop Award from The 145
2018 Top Shop Award from The 145
2019 Top Shop Award from The 145
2020 Top Shop Award from The 145
Committed to Quality
HRD is committed to ensuring our customer satisfaction by adhering to the stringent quality standards in the Aviation Manufacturing Industry. Our team of dedicated professionals works with passion to continually improve upon the products and services we provide.
Choose HRD Aero Systems as Your Qualified Aviation Service Provider
For a qualified aerospace supplier you can trust, choose HRD Aero Systems. We've served corporate, commercial and military aviation customers with reliable services while dutifully complying with industry regulations for over 35 years.
Fill out a form to get in touch with our experts today!